In his poetry also,
Michelangelo's passion for Cavalieri resounds:
If I must be defeated to be blessed,
Don't marvel that one, naked and alone,
should prove a prisoner of an armored knight.
The name Cavalieri of course means "knight". Michelangelo also wrote:
The love I speak of aspires to the heights;
woman is too dissimilar, and it ill becomes
a wise and manly heart to burn for her.
It's true that Michelangelo seems more inhibited about his sexuality than was Leonardo da Vinci, but Leonardo lived in Florence and Michelangelo in Rome, a generation later -- the time and place were not as permissive.
There can be no doubt Michelangelo fell erotically and romantically for Tommaso, even if some people don't think they expressed it physically. You don't have to get laid to be gay (but it helps!).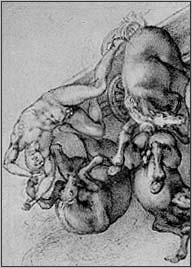 Michelangelo gave Cavalieri this drawing of the Fall of Phaeton; the erotic meaning of the story was well- known. What could be more erotic than a horse's crotch?