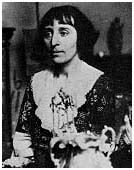 Born in Allegheny, PA, her family lived in Vienna and Paris, and Oakland, CA. Gertrude studied psychology at Radcliffe and medicine at Johns Hopkins, but in 1903 she moved to Paris to be a writer.
Then, in 1907, she met a lady from San Francisco, Alice B. Toklas. >
Five years later, they moved in together. They lived together for over 30 years until Gertrude's death in 1946.
With her short cropped hair, Gertude definitely challenged the gender stereotypes of her time, and Alice B., with a bit of hair on her lip, raised a few eyebrows herself. Once after they had visited Gertrude's 3-year-old nephew, he said, "I liked the man alright, but why did the woman have a moustache?"