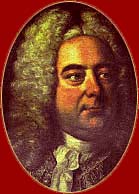 Never married. No kids. Hmm.
The statement "I don't have time" is a lame excuse for sublimating one's sexuality -- I should know; I've used it myself. Bach was just as busy as Handel, and he had 2 wives and twenty kids! People get very attached politically to national icons: "national heroes" just CAN'T be gay. Thus the fuss raised when Encyclopedia Britannica said that Richard the Lionhearted was gay, and Handel, a huge icon to the English, falls into the same category. There isn't much evidence in Handel's case, but Professor Thomas delivers a convincing argument and a great read.
"I have no time for anything but music" was Handel's reply to George II's question about his "love of women." But the composer's sovereign was neither the first nor the only of Handel's contemporary admirers and associates to wonder about his sexuality. Scarcely twenty pages into his narrative, Handel's first biographer, Christopher Mainwaring, feels obliged to address the same question: "In the sequel of his life he refused the highest favors from the fairest of the sex, only because he would not be confined or cramped by particular attachments." Later biographers, from Chrysander (1858) to Hogwood (1984) have either ignored the question of Handel's homosexuality or chose to explain it away. The most striking example of the latter is provided by Paul Henry Lang (1966), who after recognizing Handel's sexuality to be a "problem" which has "puzzled his biographers for two hundred years" is able to assure us, virtually without evidence, that the composer, although lacking "time for serious engagement with women" was a man of "normal masculine constitution".
Gary C. Thomas
"Was George Frideric Handel Gay?"
On Closet Questions and Cultural Politics
Queering the Pitch --
The New Gay and Lesbian Musicology