Faced by family opposition to her independence, Florence fell ill, and was nursed by her aunt. The two became devoted to each other, and Florence described their relationship as "like two lovers". Florence also loved a cousin, Marianne Nicholson. "I have never loved but one person with passion in my life, and that was her" Florence wrote. But Marianne's brother had fallen in love with Florence, and when Florence finally declined his proposal of marriage, the two women had a falling out. She clearly was emotionally devoted to women, never to men, and adamantly refused all offers of marriage. Living in the repressed world of Victorian values, who can say if she ever expressed her love physically? But as I always say here at GayHeroes.com, you don't have to have sex to be gay (but it helps!).

Was Florence a lesbian?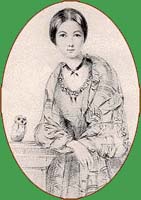 This would be Florence
with her pet owl.