GayHeroes.com: Gay and Lesbian People in History

Welcome to the GayHeroes Michelangelo Sculpture Gallery. Here you'll find some of the most famous and amazing works of art ever created, spanning 65 years of Michelangelo's incredible career. It'll take a minute for the high quality images to load -- well worth it to experience the magnificent work of Michelangelo. Enjoy!
Pieta, 1499, Rome
In this famous statue, Michelangelo expresses the tragic experience of humanity with a depth and scope unbelievable for a 24 year old. It is Michelangelo's only signed work; his name runs along the ribbon around the Virgin's shoulder. Her face and the pyramidal composition of the work show the influence of Leonardo da Vinci.
An earlier Florentine sculptor tried using the marble block before Michelangelo got it, but Michelangelo doesn't seem to have been hampered in the least by the cuts made by the older master. Recently returned to Florence from Rome, where he was greatly impressed by classical Greek sculptures, Michelangelo made his heroic David, 13 feet 5 inches tall, look more like Hercules than the boy who slew Goliath in the Bible. The figure's right side is relaxed; God is said to protect that side. David looks alertly to his left, from which side danger is more likely to come. The rulers of Florence adopted the statue as a patriotic symbol of the strength of the Florentine Republic.

David
1503, Florence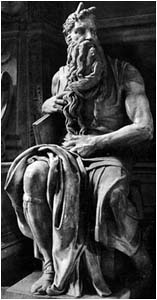 Moses (left) and
The Dying Slave (right) were created to decorate the tomb of a pope Michelangelo worked for. Each pope wanted a tomb more magnificent than his predecessor.

Even geniuses aren't perfect....

Michelangelo developed the theory of "liberating the figure from its marble prison". With this statue of St. Matthew, he failed. Apparently finding problems even his genius couldn't overcome, he abandoned it unfinished. And this was after his masterpieces "Pieta" and "David".



St. Peter's
Rome 1546-64

Completed after he died, the dome of St. Peter's is Michelangelo's masterpiece of monumental architecture. It's logic and perfection are such that every major dome built in the next 300 years was modeled after it; so you could say that the dome of our nation's Capitol in Washington D.C. was designed by a gay man.

back to Michelangelo's Page


Jay Spears
jay@gayheroes.com
Date Last Modified: 09/18/02